Step 1: Pre-Inspection
Our service technician will inspect your areas of concern as well as noting carpet construction and soiling conditions. He will advise you of any possible permanent staining.
Step 2: Commercial Pre-vacuum
Your carpet will be thoroughly vacuumed with our special Turbine Vacuum System to remove dry soil. Removing dry soil is one of the most important steps in cleaning.
Step 3: Furniture Moving
Sofas, chairs and tables will be carefully moved. Larger pieces such as beds, dressers, are left in places under our regular pricing structure. The furniture will be protected with disposable blocks and tabs.
Step 4: Pre-Spray nd Pre-Spot
The carpet is "pre-sprayed" with special cleaning compounds specially designed for your particular carpet & soil conditions. This loosens up the soil to make rinsing more effective. Whether your carpet is wool, olefin Berber, nylon Berber or cut pile nylon our technicians will be using products designed for that carpet.
Step 5: Pre-Groom
The "Pre-spray" is then worked into the fiber using either a hand rake or a rotary scrubber depending on what the technician feels is needed to do a great job.
Step 6: Rinse and Extract
Once the soil has been loosened, our state-of-the-art truck-mounted hot water extraction process will thoroughly flush the carpet. This step sanitizes & deodorizes the carpet. Water pressure is regulated so that the carpet is not over wet – depending on thickness & depth of carpet.
Step 7: Neutralize
Every carpet that we clean is PH balanced so there is no sticky residue left behind. This treatment is applied as a rinse thru the machine or is applied after rinsing depending on soil conditions.
Step 8: Post Spot Treatment
If any spots are not removed during the cleaning process, specialty spotting techniques are employed. – We have written procedures for every situation.
Step 9: Dry Bonnet
Some carpets in your home (not all) benefits from a Dry Bonnet process. Dry bonnet assists in drying and can help prevent spots from returning while drying (wicking) – some carpets don't need any bonneting – sometimes we do the last couple of rooms to help with the drying, if this is a carpet that may not dry as quickly as we need.
Step 10: Speed Dry
High velocity air movers are placed on the carpet to speed dry the carpet.
Step 11: Post Grooming
The carpet pile is set in one direction (using a carpet rake) for faster drying and more visual appeal.
Step 12: Post Inspection
Please walk-thru your home with our technician to inspect our work. Let us know that you are pleased by signing our service receipt.
WE CHARGE BY THE "CLEANABLE SQUARE FOOT" FOR CARPET CLEANING.
Hardwood Floor Cleaning

The pores of your hardwood floors absorb dirt and debris which can serve as a breeding ground for bacteria and mold. This buildup of dirt can drastically reduce the longevity of your hardwood floors. DIY cleaning methods do not extract all of the soil that sits deep into the pores of your hardwood floorboards. Our patented foam absorption process ensures maximum soil removal. We use a finishing sealant to give your floors a layer of protection and a shiny, new, and glossy look.

Read More

Tile & Grout Cleaning

The pores of grout lines are capable of holding in dirt and debris that is almost impossible to scrub out. This buildup can cause a discoloration to the grout. Tile can also stay dirty similar to how hardwood absorbs debris. A thorough, professional cleaning will make your tile look new and help cleanse the grout of discoloration and foul odor.

Read More

Upholstery Cleaning

The fabric on your furniture is highly susceptible to holding in dirt, debris, bacteria, pet urine, hair, and much more. Cleaning upholstery is difficult without specialty equipment. Our patented foam absorption process

Read More
Trustworthy

Our unparalleled commitment to providing dependable services is clear. We have a proven reputation in the community. Our clients love us!

Qualified

Our staff consists of certified and insured professionals. We provide specialized training to our workers and use industry-leading tools and equipment.

Effective

Our duct cleaning experts get the job done to the highest degree. We ensure all microbial growth harboring in your ducts is removed. Our methods are the most efficient in the industry.

Integrity

Our cleaning specialists are all absolute professionals. Every technician on our team follows a code of ethics. Our technicians also go to each job site with photo identification and will present it if requested.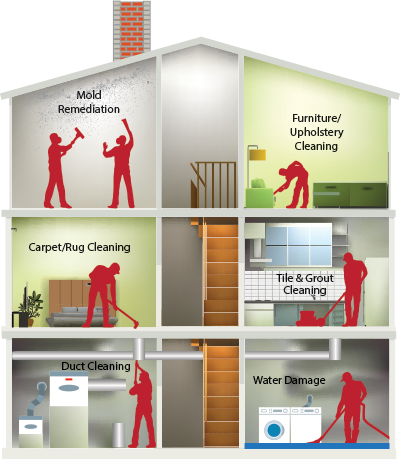 Remember, It Isn't
Clean Until It's