Commercial Tile and Grout Cleaning
Tile isn't too difficult to keep clean. However, grout lines take forever to properly scrub. It can take hours to clean the grout in a home. Imagine how long it could take if you attempt to thoroughly clean all of the grout in your business's property.
The worst part is how quickly the grout can get dirty again. You might not notice it right away. But, deep into the pores of the grout is an accumulation of dirt, debris, and more.
These contaminants and pollutants can cause bacterial growth which poses potential health threats. The grout lines will get dirty a few weeks after you clean them. With professional help, the dirt and debris in the pores of the grout can be extracted. The time between cleanings can stretch on longer which will make maintenance less of a hassle.
A Professional Cleaning Helps
A professional tile cleaning will make your business's floors and backsplash look like new again. The tile will have a fresh shine and gloss. A finishing coat will ensure that the tile stays looking revitalized for as long as possible. In most cases, a business will only need to get a tile cleaning done once or twice a year.
Grout is made by combining water with cement and sand. This mixture is very porous which means it is full of pores that can absorb dirt and debris. Discoloration can occur to the grout lines after dirt and debris piles up for long enough. A nasty odor can also come off of the dirt-absorbed grout. With a professional cleaning, the grout will be scrubbed and penetrated deep into the pores. The pollutants will be extracted and also the discoloration will be gone.
Hire Duraclean
Duraclean can provide a deep and thorough cleaning that's unparalleled. Our company owns the patent to a specialty foam cleaning process. We are able to achieve the maximum soil extraction rate possible in today's cleaning industry. Our high level of efficiency makes us a dependable option for our commercial clients.
We also provide tile restoration help. We can seal, polish, and strip your tile floors. We are able to treat any damage to the tile or grout to make it look brand new. A restorative cleaning service will further the longevity of your tile and grout. Aside from making it look great, the finishing sealer will help it withstand wear and tear until the next professional cleaning.
Why Duraclean?

Dependable
Our reputation is on the line every time we clean a property. We make sure that our staff achieve the best results possible. Aside from our wonderful technicians, our patented foam process and specialty equipment also make a huge difference.

Accessibility
We can dig and scrub deep into the pores of your grout lines. Our high-pressure cleaning technology achieves results that make your tile and grout look new again. The difference is even noticeable on damaged and excessively worn tile.

Consistency
We achieve the same great results every time we clean tile and grout for our clients. The processes and procedures we follow provide truly transformational results. Our finishing sealant is also top quality and helps to protect your tile and grout.

Reputable
With 90 years of experience, the Duraclean name is well-known in the US. Our franchises are managed with quality assurance in mind. Our staff are all extensively trained, certified, and disciplined. We follow a code of ethics to ensure optimal workmanship at all times.
Hardwood Floor Cleaning

The pores of your hardwood floors absorb dirt and debris which can serve as a breeding ground for bacteria and mold. This buildup of dirt can drastically reduce the longevity of your hardwood floors. DIY cleaning methods do not extract all of the soil that sits deep into the pores of your hardwood floorboards. Our patented foam absorption process ensures maximum soil removal. We use a finishing sealant to give your floors a layer of protection and a shiny, new, and glossy look.

Read More

Tile & Grout Cleaning

The pores of grout lines are capable of holding in dirt and debris that is almost impossible to scrub out. This buildup can cause a discoloration to the grout. Tile can also stay dirty similar to how hardwood absorbs debris. A thorough, professional cleaning will make your tile look new and help cleanse the grout of discoloration and foul odor.

Read More

Upholstery Cleaning

The fabric on your furniture is highly susceptible to holding in dirt, debris, bacteria, pet urine, hair, and much more. Cleaning upholstery is difficult without specialty equipment. Our patented foam absorption process

Read More
Trustworthy

Our unparalleled commitment to providing dependable services is clear. We have a proven reputation in the community. Our clients love us!

Qualified

Our staff consists of certified and insured professionals. We provide specialized training to our workers and use industry-leading tools and equipment.

Effective

Our duct cleaning experts get the job done to the highest degree. We ensure all microbial growth harboring in your ducts is removed. Our methods are the most efficient in the industry.

Integrity

Our cleaning specialists are all absolute professionals. Every technician on our team follows a code of ethics. Our technicians also go to each job site with photo identification and will present it if requested.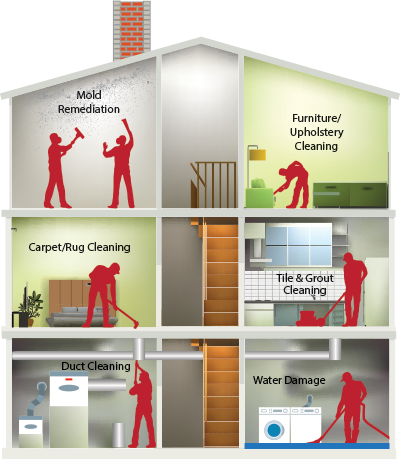 Remember, It Isn't
Clean Until It's