Hardwood Floor Cleaning
Do you regularly mop your hardwood floors? That's great, but you have to remember the residue from your cleaning products won't go away.
Over time the surface will lose its allure and become dull. The leftover residue will damage your hardwood floors and cause expedited aging. Also, mopping doesn't extract dirt stuck in the pores of the floorboards. These contaminants will pile up over time.
At least once annually, a professionally cleaning should be done to cleanse and revitalize your floors. This cost is miniscule in comparison to replacing your floors as a result of extensive wear.
Why Hire a Professional?
Store-bought cleaning products and equipment are not effective enough. A professional hardwood floor cleaning company can execute the task at a greater level. Businesses like ours have the tools, resources, and know-how to achieve massive results. You will be left with a streak-free shine that leaves your floors looking like new.
An important part of a professional cleaning is agitating the embedded debris. An aggressive scrubbing and quality cleaning product is not all you need. After eliminating the dirt, the cleaner also needs to be extracted which requires specialized equipment.
A professional hardwood cleaning service provider will make a world of difference. This type of cleaning requires the utmost efficiency. You cannot see the contaminants built up in the pores of your floorboards. Therefore, it's a blind bet on the dependability of the user, equipment, and cleaning solution. With an expert there's no gambling on whether the floors are fully clean!
Our Hardwood Cleaning Process
Duraclean deploys a two part procedure when cleaning hardwood floors. We use water-based cleaning products that help restore the luster in floors with polyurethane finish. Our cleaning efforts will bring any type of hardwood back to like-new condition. At the same time, you will extend the life expectancy of your floors.
We recommend you get your floors professionally cleaned once a year. This way, the contaminants absorbed into the pores of your floorboards won't build up too much. The more these particles pile up the greater the wear and tear will be to your hardwood floors.
Book a Cleaning!
Our trustworthy staff are ready to handle any job at any time. Reach out to discuss your floor cleaning needs and set up an appointment. We will work around your schedule and complete your service call in a timely fashion.
Give us a shout and get the process underway!
Why Trust Duraclean?
Reliability
Our brand's reputation is on the line with every job we take. We hold a proven track record serving local homeowners and won't let any of our clients down.
Resourcefulness
We are equipped with the necessary tools to get the job done. Our state-of-the-art hardwood floor cleaning equipment will not disappoint.
Perfectionism
Duraclean achieves the highest soil extraction rate in the industry thanks to our patented technology. With our equipment, your floors will be left with no soap residue, dirt, or other contaminants. All without over-wetting the floor!
Credible
Our cleaning technicians are certified and fully insured. Each member of our team is friendly, ethical, and incredibly professional. We come to each appointment with photo ID available upon request.
Hardwood Floor Cleaning

The pores of your hardwood floors absorb dirt and debris which can serve as a breeding ground for bacteria and mold. This buildup of dirt can drastically reduce the longevity of your hardwood floors. DIY cleaning methods do not extract all of the soil that sits deep into the pores of your hardwood floorboards. Our patented foam absorption process ensures maximum soil removal. We use a finishing sealant to give your floors a layer of protection and a shiny, new, and glossy look.

Read More

Tile & Grout Cleaning

The pores of grout lines are capable of holding in dirt and debris that is almost impossible to scrub out. This buildup can cause a discoloration to the grout. Tile can also stay dirty similar to how hardwood absorbs debris. A thorough, professional cleaning will make your tile look new and help cleanse the grout of discoloration and foul odor.

Read More

Upholstery Cleaning

The fabric on your furniture is highly susceptible to holding in dirt, debris, bacteria, pet urine, hair, and much more. Cleaning upholstery is difficult without specialty equipment. Our patented foam absorption process

Read More
Trustworthy

Our unparalleled commitment to providing dependable services is clear. We have a proven reputation in the community. Our clients love us!

Qualified

Our staff consists of certified and insured professionals. We provide specialized training to our workers and use industry-leading tools and equipment.

Effective

Our duct cleaning experts get the job done to the highest degree. We ensure all microbial growth harboring in your ducts is removed. Our methods are the most efficient in the industry.

Integrity

Our cleaning specialists are all absolute professionals. Every technician on our team follows a code of ethics. Our technicians also go to each job site with photo identification and will present it if requested.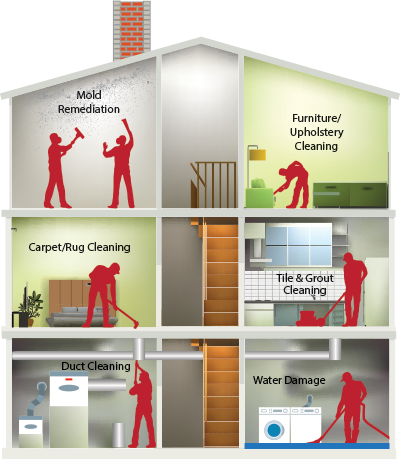 Remember, It Isn't
Clean Until It's