Thank you for trusting us with your cleaning project. Here are some suggestions for you to prepare for our arrival that will help us both.
Please bring to your technicians attention any spots or stains that may require special attention.
Please advise your technician about any special requirement to follow when moving your furniture: weak legs, loose tops, etc.
Please vacuum your carpet before we arrive.
Any small pieces, such as dining room chairs, magazine racks, floor plants, etc. which you can remove from the carpet to be cleaned will shorten processing time and return the carpet to normal use sooner.
Remove all breakable items from the furniture which will have to be temporarily moved from its regular location.
China cabinets, sectional sofas, entertainment centers, antiques, large TV's, electronic equipment, computers, pianos and fragile furniture cannot be moved. Our standard cleaning includes moving any coffee tables, chairs, couches, and smaller items that you would like moved. Beds, dressers, desks and other such heavier items may be moved upon request at an additional charge. Please inform us prior to your cleaning if you want such items moved.
For your pet's peace of mind (and ours) please put them in a safe, quiet, place where our cleaning won't disturb them.
A special note about odors: We do everything possible to reduce or eliminate pet odors. However, due to depth of contamination, 100% success may not be attainable. Also, for several days after cleaning you may notice an elevated odor due to higher humidity levels and "off gassing."
For safety sake, be sure to keep an extra close eye on your curious little ones.
Most importantly, if there is anything we can do to make this experience a better one for you, please let us know.
Hardwood Floor Cleaning

The pores of your hardwood floors absorb dirt and debris which can serve as a breeding ground for bacteria and mold. This buildup of dirt can drastically reduce the longevity of your hardwood floors. DIY cleaning methods do not extract all of the soil that sits deep into the pores of your hardwood floorboards. Our patented foam absorption process ensures maximum soil removal. We use a finishing sealant to give your floors a layer of protection and a shiny, new, and glossy look.

Read More

Tile & Grout Cleaning

The pores of grout lines are capable of holding in dirt and debris that is almost impossible to scrub out. This buildup can cause a discoloration to the grout. Tile can also stay dirty similar to how hardwood absorbs debris. A thorough, professional cleaning will make your tile look new and help cleanse the grout of discoloration and foul odor.

Read More

Upholstery Cleaning

The fabric on your furniture is highly susceptible to holding in dirt, debris, bacteria, pet urine, hair, and much more. Cleaning upholstery is difficult without specialty equipment. Our patented foam absorption process

Read More
Trustworthy

Our unparalleled commitment to providing dependable services is clear. We have a proven reputation in the community. Our clients love us!

Qualified

Our staff consists of certified and insured professionals. We provide specialized training to our workers and use industry-leading tools and equipment.

Effective

Our duct cleaning experts get the job done to the highest degree. We ensure all microbial growth harboring in your ducts is removed. Our methods are the most efficient in the industry.

Integrity

Our cleaning specialists are all absolute professionals. Every technician on our team follows a code of ethics. Our technicians also go to each job site with photo identification and will present it if requested.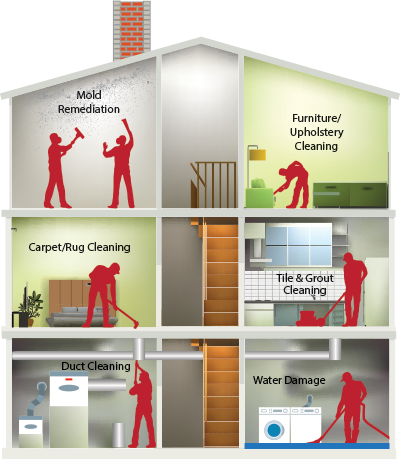 Remember, It Isn't
Clean Until It's