A HUGE THANK YOU- WELL DONE! to Joe and Felix. We had our carpets cleaned today and they came out GREAT! Better than I ever expected. Both technicians were knowledgeable, courteous, reasonable, hardworking, AND friendly. Great job!Brian and Karen Z

Dryer vent cleaning, the two people that did the job was very good they came did the job cleaned any lint that was blown out on my patio and left no mess to clean up. on rateing it's a 5 will use them again .....


Local, Veteran owned company that cares about the quality of their work. Highly recommended!


Rachel Dixon Certified Personal T.
20:25 02 Dec 21

Joe is a very friendly and professional person, I highly recommend to come here to clean the carpet.

Great people and they do a great.

Professional, prompt. I've used other cleaners and Duraclean was able to get our carpets cleaned.

Jessica R.
16:10 07 Dec 20
I recently hired Duraclean to assist after a utility sink in my laundry room overflowed. We have first floor laundry and water was flowing down vents and through the basement ceiling into our finished basement. I could not have been more impressed with the professionalism and service provided by Duraclean. They were able to come out, on a weekend, to set up fans and dehumidifiers to start the dry out. We also were showed which areas, including walls and trim, had moisture and had all of our questions answered. I felt like they took the time to explain what they were doing, why and how long it would take. The technicians are prompt, informative and I am so thankful we had them to help us! The team at Duraclean took A LOT of stress off of us and made me feel better knowing they had it handled. I can't thank them enough and would highly recommend Duraclean to everyone!

Victoria G.
23:52 04 Dec 20
Joe and his crew cleaned out a deteriorating shed that was ruining an enclosed patio. From the beginning, Joe was professional--prompt, communicative, courteous; and his crew did a great job. They were considerate of not damaging the yard and surrounding area. We are very pleased. I highly recommend Joe and look forward to working with him and his crew again.

They are great definitely be using them again. Had my livingriom rug cleaned. Took a little longer then I expected but with holidays coming up totally understandable. They were very perfectional. They even gave us a discount on the fact of miss communication between techs and everyone. I'm very happy with our new clean rug. Thank you.



I used several carpet cleaners before I found Duraclean. They have always done a fantastic job and they are my number one cleaner now. I don't call anyone else. The technicians are professional and polite. The quality is the best in removing tough stains. I highly recommend.

Samantha and Erica T.
14:48 27 Aug 20
I called Duraclean to get the "mystery pet odor" out of our living room. No matter what we did ourselves or what "miracle products" we tried from just about every blog out there, the "wet dog" smell hit you like a brick wall as soon as you walked in our house. I called Duraclean and they had a technician out the same week. The technician that came to our house was polite, friendly, and SUPER knowledgeable. Not only was he able to get the smell out, he was able to give us suggestions on how to keep it away, and even left us with a bottle of product to help us keep our carpets clean and fresh between services! 100% will be calling them again if another situation arises.

In today's times it is hard to find companies with high integrity and to just get them to do what they say they are going to do, oh my! You can be assured Duraclean will follow through and go over and beyond to make your needs a priority. With an owner that cares and workers that work its a company that shouldn't be overlooked! Thanks Joe and company for doing such a fantastic job!

Christy E.
22:30 18 Mar 20
Best call we could have made! Joe and his team were reliable and responsive. We highly recommend them.

Duraclean is affordable and does a great job! Better than the other cleaners in town. The owner and his dog are awesome

Denisse C.
08:14 29 Aug 19
Great attention to detail, they were perfect on everything; both on labor and in doing business with then.

You could not ask for a more professional company. I would highly recommend for any issue you might have. Mine was dealing with some water issues and the owner could not have been more caring and on top of the situation.

KATHLEEN W.
14:40 23 May 19
Very pleased with the professional service. Great people to work with..office staff, technician and owner. Would highly recommend !

Barbara C.
21:11 15 Mar 19
Unfortunately I had water in my basement. It was pouring into my window faster then we could keep up with. It was also a Saturday. I called the owner of Dura Clean and he immedilately came over to start extracting the water. He set up fans and a dehumidifier. Because of his prompt action I did't have damage. They were fast, effectiant & very compassionate. I would strongly recommend using their services for restoration. I also previously used them to clean a new sectional that my agde cat soiled. They got the odor out. They have also done a fabulous job cleaning my carpet.

Great work, thorough, knowledgeable, and excellent customer service!

My ceramic tile looks amazing! Just like it was new. Very professional service, too. Thanks Duraclean!

They are quick, reliable and great to work. They dried up my kitchen floor after a leak as quickly as possible. I'm so grateful.

Very thorough, very reasonable, great people to work with!

Allison M.
15:10 13 Jul 18
I always call duraclean for car cleaning or for my carpets at home, they always satisfy!

I was very pleased with the service I received. Joe was very professional and knowledgeable. I believe the cost was equal to the service i received. I would highly recommend them for both vent cleaning and carpet cleaning.

Constance R.
18:43 10 Aug 17
I'm rarely 100% pleased with anything, but Duraclean is the exception. The technician was on-time, courteous, pleasant, and (most importantly) did a terrific job on our carpets.

They cater to your needs, very friendly
Trustworthy

Our unparalleled commitment to providing dependable services is clear. We have a proven reputation in the community. Our clients love us!

Qualified

Our staff consists of certified and insured professionals. We provide specialized training to our workers and use industry-leading tools and equipment.

Effective

Our duct cleaning experts get the job done to the highest degree. We ensure all microbial growth harboring in your ducts is removed. Our methods are the most efficient in the industry.

Integrity

Our cleaning specialists are all absolute professionals. Every technician on our team follows a code of ethics. Our technicians also go to each job site with photo identification and will present it if requested.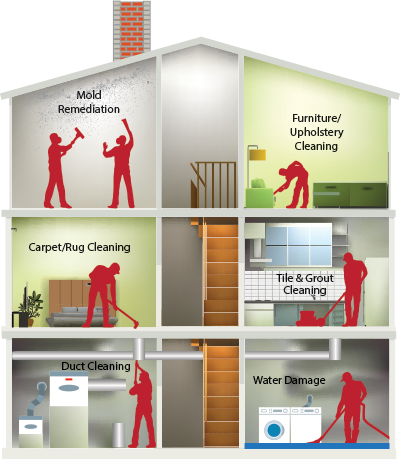 Remember, It Isn't
Clean Until It's