Commercial Hardwood Floor Cleaning
Businesses receive a lot of foot traffic. Your employees probably do a good job to clean the floors day in and out. However, a mixture of left over soap residue and debris is still sitting in your floors. The pores of hardwood are very absorbent.
A professional hardwood floor cleaning can make a big difference. You will be able to extract all debris and soap residue from the hardwood floorboards. The biggest perks here include an extension in the life expectancy of your floors and a removal of contaminants.
High Efficiency Hardwood Cleaning
A standard commercial hardwood floor cleaning will remove allergens and contaminants from the floorboards. The floors will come out brighter and shinier after we apply our finishing coat. This type of cleaning is typically requested once or twice a year. However, the frequency will depend on how much traffic your property gets.
A deeper cleaning will go a little further and provide greater results. This procedure is more common when you want some restorative benefits. A thicker finishing coat will be used which will last longer and create an even glossier look. This type of cleaning can last 4-5 times as long as a standard commercial hardwood floor cleaning. This thorough method will disguise cracks, scratches, and other cosmetic blemishes.
Work with Duraclean
Duraclean founded in 1930 and grew into one of the largest cleaning franchises in the world. Our business has practices and procedures that are formulated based on our many years of experience in the industry. We have the equipment and knowledge to execute any floor cleaning job to the highest degree.
In fact, Duraclean ranks at the top for "most soil extracted". We manage to remove the greatest amount of dirt, debris, etc. We do this without over-soaking your floors or leaving any soap residue.
Book an Appointment
Every business should have a professional cleaning done at least once or twice a year. A more frequent cleaning might be necessary if your company's property gets a lot of foot traffic. However, a more thorough cleaning and thicker finishing coat can prolong the periods between each cleaning.
Call us today and schedule an appointment. We're here for you!
Why Choose Duraclean?

Prestigious
The Duraclean brand is held in the highest regard. Our franchise is managed with integrity in mind. The reputation of our company speaks for itself. You can check the reviews and see for yourself how consistent we are at what we do.

Resourceful
Our team are given industry-leading equipment and technology to execute every hardwood floor cleaning job. We have a patented foam process for floor cleaning that achieves results that are second-to-none.

Transformational
The before and after will be extremely noticeable and applaudable. Our hardwood floor cleaning process and finishing coat will make your business's floors look brand new again. We bring that original shine and gloss back to life.

Professionalism
Duraclean technicians have full coverage and are certified cleaners. Our workers always carry ID which we can show to you. We also follow a code of ethics and keep all interactions 100% professional.
Hardwood Floor Cleaning

The pores of your hardwood floors absorb dirt and debris which can serve as a breeding ground for bacteria and mold. This buildup of dirt can drastically reduce the longevity of your hardwood floors. DIY cleaning methods do not extract all of the soil that sits deep into the pores of your hardwood floorboards. Our patented foam absorption process ensures maximum soil removal. We use a finishing sealant to give your floors a layer of protection and a shiny, new, and glossy look.

Read More

Tile & Grout Cleaning

The pores of grout lines are capable of holding in dirt and debris that is almost impossible to scrub out. This buildup can cause a discoloration to the grout. Tile can also stay dirty similar to how hardwood absorbs debris. A thorough, professional cleaning will make your tile look new and help cleanse the grout of discoloration and foul odor.

Read More

Upholstery Cleaning

The fabric on your furniture is highly susceptible to holding in dirt, debris, bacteria, pet urine, hair, and much more. Cleaning upholstery is difficult without specialty equipment. Our patented foam absorption process

Read More
Trustworthy

Our unparalleled commitment to providing dependable services is clear. We have a proven reputation in the community. Our clients love us!

Qualified

Our staff consists of certified and insured professionals. We provide specialized training to our workers and use industry-leading tools and equipment.

Effective

Our duct cleaning experts get the job done to the highest degree. We ensure all microbial growth harboring in your ducts is removed. Our methods are the most efficient in the industry.

Integrity

Our cleaning specialists are all absolute professionals. Every technician on our team follows a code of ethics. Our technicians also go to each job site with photo identification and will present it if requested.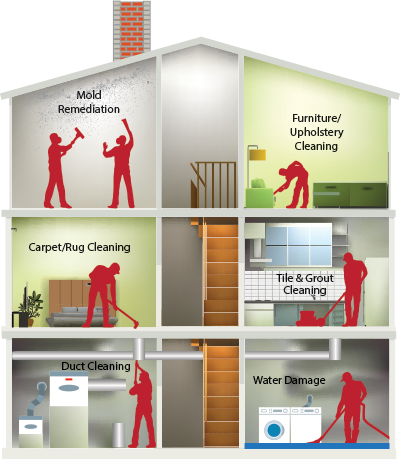 Remember, It Isn't
Clean Until It's