As you may know, our industry is unfortunately filled with uneducated, uninformed, and sometimes downright unscrupulous cleaners. You have probably seen them. They advertise a low price, then overcharge you. Our mission here at Duraclean is to provide you with the most outstanding service experience possible.
There are five reasons that our clients use our services:
1. Reputation
Our reputation is second to none. Some of the most seasoned professionals refer our services exclusively.
2. Experience
Duraclean is one of the most experienced companies in the state. We have been in business since 1991 and are experienced in all types of cleaning. Whether the fabric is natural or synthetic, and whatever the soiling condition may be, we will apply all of our expertise to your job.
3. Education/Certification
We are certified by the IICRC, which is the most recognized body of certification in the world. We were the first ICRC certified firm in Winnebago/Boone county. All of our techs are IICRC certified. Our owners & staff hold multiple certifications including master cleaning technician which is the highest status available for cleaners. We are also very involved in our associations. This involvement keeps us on the cutting edge so that we can pass that knowledge on to your job.
4. Systems
Our company operates the most advanced cleaning systems on the market. Plus, we are committed to first class service systems. We will try to show up on time and attempt to give you the best service experience you have ever received.
5. Guarantee
Last, but not least, our guarantee. If you are not completely satisfied with the service experience you received from our company, we will rush back to your location at no charge to you to address your concerns.
Hardwood Floor Cleaning

The pores of your hardwood floors absorb dirt and debris which can serve as a breeding ground for bacteria and mold. This buildup of dirt can drastically reduce the longevity of your hardwood floors. DIY cleaning methods do not extract all of the soil that sits deep into the pores of your hardwood floorboards. Our patented foam absorption process ensures maximum soil removal. We use a finishing sealant to give your floors a layer of protection and a shiny, new, and glossy look.

Read More

Tile & Grout Cleaning

The pores of grout lines are capable of holding in dirt and debris that is almost impossible to scrub out. This buildup can cause a discoloration to the grout. Tile can also stay dirty similar to how hardwood absorbs debris. A thorough, professional cleaning will make your tile look new and help cleanse the grout of discoloration and foul odor.

Read More

Upholstery Cleaning

The fabric on your furniture is highly susceptible to holding in dirt, debris, bacteria, pet urine, hair, and much more. Cleaning upholstery is difficult without specialty equipment. Our patented foam absorption process

Read More
Trustworthy

Our unparalleled commitment to providing dependable services is clear. We have a proven reputation in the community. Our clients love us!

Qualified

Our staff consists of certified and insured professionals. We provide specialized training to our workers and use industry-leading tools and equipment.

Effective

Our duct cleaning experts get the job done to the highest degree. We ensure all microbial growth harboring in your ducts is removed. Our methods are the most efficient in the industry.

Integrity

Our cleaning specialists are all absolute professionals. Every technician on our team follows a code of ethics. Our technicians also go to each job site with photo identification and will present it if requested.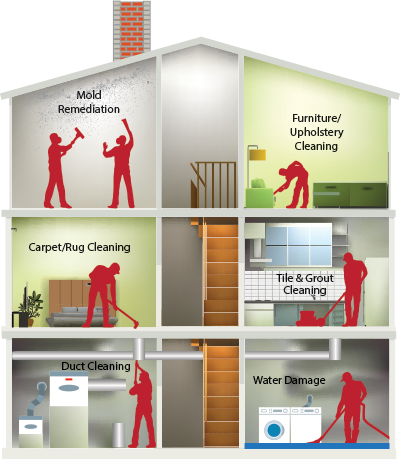 Remember, It Isn't
Clean Until It's