FAQ
1) Why is there gross black lining along the baseboards and below doorways?
Carpet that is light in color can cause this dirty lining to show around the baseboards and under doorways. The dirt is a type of "filtration soiling" which occurs as a result of air escaping the carpet. Oxygen can only release where there are gaps which is primarily along the baseboards and under doorways.
Soil deposits get stuck and build up to create a dark film. This process happens for a while before it is visibly noticeable. Once the soiling is seen by the naked eye it means there is a considerable amount of contaminants present. The filtration soiling is an indicator that the carpets are far too dirty and need a thorough cleaning.
It's hard to treat filtration soiling.
This type of dirt is made up of a finer particle. It's possible for the soiling to go so deep into the carpet fabric that it ends up underneath the floor. While filtration soiling is removable, some of the worst cases may require extra measures.
2) Are your cleaning and prevention tactics safe?
Duraclean only uses proven technologies and cleaning solutions. We avoid products that contain strong chemicals. Our go-to is a high-pressure steam. Our patented foam process and specialty equipment provide results that the strongest chemicals cannot achieve.
3) Are results guaranteed?
We do have a 100% satisfaction guarantee. We offer one return visit to fix any lingering issues and clean a second time. If you are still not happy with the results, we will refund your initial payment.
Our guarantee exists because we have pride in our work. We hold ourselves to a high standard and know that we won't let our clients down. We use industry-leading equipment and cleaning products to assure the best results imaginable. Our team of cleaning technicians are all expertly trained and fully capable of achieving the best results.
Quality assurance matters to us and we promise to not let you down!
4) Are you recognized by the Better Business Bureau?
Yes. Duraclean is BBB-listed and also recognized by various other organizations in the residential and commercial cleaning industry.
5) Are your workers insured?
Yes. All of our workers are insured.
6) How do you clean carpets?
We use many processes and procedures to achieve top results when cleaning carpet floors. We follow manufacturer's instructions to ensure dependable results. The majority of our carpet cleaning jobs are executed via "hot water extraction". This technique is essentially steam cleaning which the vast majority of carpet cleaning services utilize. This practice is what the majority of carpet makers suggest as the best way to clean.
7) What is the drying time for a carpet cleaning?
Usually it will take between two and six hours to fully dry carpet floors. Carpet will only be damp to touch as our technique avoids over-wetting the floor. The actual drying time will vary depending on many factors such as the weather, temperature and humidity in the room, ventilation quality, etc.
8) How long should you go between cleanings?
Most carpet manufacturers suggest that you get your carpets professionally cleaned a minimum of once every 12 months. The accumulated soil in the fibers of your carpet will cause damage to the floor. The fibers will wear out and the carpet will need replaced quicker if it is inadequately maintained. For businesses, the wear and tear can lead to damage at a fast rate if a deep cleaning is not done on a periodic basis.
9) Is it better to dry clean or steam clean?
The steam cleaning method is most popular and what carpet makers typically suggest. Steam is a very efficient soil extractant and polluted carpet fibers respond well. While there are a handful of carpet cleaning methods that exist, steam cleaning is the most common one by far. Roughly 95% of carpet cleaning companies use this method.
Dry cleaning is usually done with no water. This practice is not as common or as effective. The contaminants found in your carpet fibers are water soluble. Therefore, a wet method will yield better results in the end. We do provide "Encapuclean" which is a form of dry cleaning and some businesses prefer this tactic. The main benefit would be the one to two hour drying time. This tactic uses very little water but is not completely water-free.
10) Will water go through the carpet onto the padding?
Our carpet cleaning is very penetrative but it will not reach into the underside of your carpet floors. We make sure to effectively soak and rinse your carpet floors. However, at the end the surface will be damp and the underneath parts will still be dry.
11) Is it possible to eliminate pet odor?
Pet dander, urine, and other pet-related contaminants can cause horrible odor.
Duraclean has a special approach for dealing with these jobs. We are able to clean and treat floors and furniture with pet-related smells and stains. Even the most severe cases will not be a problem due to our highly effective cleaning products and equipment.
Pet odor that won't go away is usually because the cause is further into the carpet than you would expect. It's possible that the underside of your carpet and the padding below it have absorbed the pet-related contaminants. Cleaning the top layer will not achieve odor-eliminating results.
Further, bacteria can develop as a result of the pet urine. If left ignored it is possible for the fibers to start to lose color and the smell will be harder to fix. It will be easy to remedy the issue if the pet pollutants are only on the surface of the carpet. However, in tougher cases a urine neutralizer is required. In the worst situations it will be necessary to put in new carpet padding and possibly treat the sub-floor and underside of your carpet. You might not get rid of the odor by simply putting in new carpet because the sub-floor itself could be contaminated.
Failing to fix a dirty floor with foul pet odor can cause further issues. The pollutants can get stuck into the pores of other fabrics within the property. Your upholstery, drywall, baseboards, and various other building materials will all be at risk. Worst case scenario, you will need to treat the entire room to completely extract the foul smell.
Duraclean provides an excellent variety of cleaning practices for pet-related issues. We will help with the cleaning and also aid in preventing further issues. We know it's a difficult battle keeping a home clean with pets. Our technicians are always willing to help advise our pet-loving clients on the best cleaning and maintenance practices.
Trustworthy

Our unparalleled commitment to providing dependable services is clear. We have a proven reputation in the community. Our clients love us!

Qualified

Our staff consists of certified and insured professionals. We provide specialized training to our workers and use industry-leading tools and equipment.

Effective

Our duct cleaning experts get the job done to the highest degree. We ensure all microbial growth harboring in your ducts is removed. Our methods are the most efficient in the industry.

Integrity

Our cleaning specialists are all absolute professionals. Every technician on our team follows a code of ethics. Our technicians also go to each job site with photo identification and will present it if requested.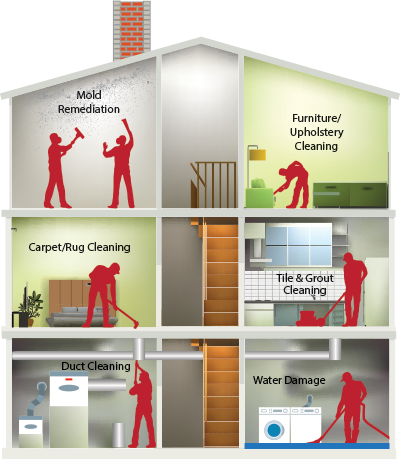 Remember, It Isn't
Clean Until It's