Any type of mold, mildew, or fungus should be treated immediately. The health risks are serious and some types of mold can be fatal. Most molds grow in areas where it is easy to become airborne. Sometimes the air duct system can even be harboring harmful mold. Your lungs are exposed to the mold and sooner or later your health will suffer. The health effects are a risk for you, your staff, and even your customers or clients. Mold can spread quickly and leaving it ignored will make it costlier to fix. Always keep an eye in humid areas such as bathrooms, kitchens, and wet basements. Pay special attention to anywhere that previously had water damage. Make an effort to dry and clean the affected area. However, if the growth is irremovable you will need to seek help via a professional mold remediation service.
Is All Mold Dangerous?
Not all types of mold are dangerous. The vast majority will have real implications to the health of you, your family, and your pets. You likely know that black mold ("stachybotrys") has serious health risks. However, many other types of mold are dangerous to humans. Another type of mold ("chaetomium") usually grows in wet areas, such as in drywall after a bathroom flood. It looks like black mold and has similar serious health effects. If you notice blue, green, or white mold it could be "penicillium" which can give allergy and asthma-like symptoms. However, there are literally more than 100,000 types of mold that exist. Many are dangerous to your health which is why it is important to remediate the mold as quickly as possible.
Is Mold Testing Necessary?
In most cases, no testing is required. You are better off paying for remediation alone instead of wasting money on testing the mold. If you catch it early, simply book a remediation service with a professional mold removal company. Mold testing is more important if the growth is old and health issues exist. Check with your insurance policy as mold testing and remediation might be included.
Hire Duraclean for Mold Removal
Since establishing in 1930, the Duraclean brand has grown into the leading residential and commercial cleaning service. Our mold remediation procedures have stood the test of time. We provide professional services that our clients can trust and our reputation speaks for itself. We know mold can be scary to find. It's not something that you should attempt to fix on your own. There's too much liability to risk handling it the wrong way. Our mold removal specialists can eliminate your concerns by efficiently cleansing your property of mold. Our technicians can work around your busy schedule. Let us know your availability when you call to book an appointment. We're always on time and our staff are all friendly and respectful during every service call we take.
Why Choose Us?

History
The Duraclean brand is one of the oldest names in the residential and commercial cleaning sector. Our framework is built off of proven practices and procedures.

Versatility
We have the equipment and technology to handle any situation. Our mold remediation equipment and cleaning solutions are 100% effective.

Efficiency
Our products and quality of service will guarantee a successful remediation of any and all types of mold. Whether it's slime mold, fungus mold, or otherwise, we will completely eliminate it.

Experts
Our mold remediation technicians are highly qualified. Every member of our team has proper certification and is fully insured. We are a professional business and you will see that in your experience with us.
Hardwood Floor Cleaning

The pores of your hardwood floors absorb dirt and debris which can serve as a breeding ground for bacteria and mold. This buildup of dirt can drastically reduce the longevity of your hardwood floors. DIY cleaning methods do not extract all of the soil that sits deep into the pores of your hardwood floorboards. Our patented foam absorption process ensures maximum soil removal. We use a finishing sealant to give your floors a layer of protection and a shiny, new, and glossy look.

Read More

Tile & Grout Cleaning

The pores of grout lines are capable of holding in dirt and debris that is almost impossible to scrub out. This buildup can cause a discoloration to the grout. Tile can also stay dirty similar to how hardwood absorbs debris. A thorough, professional cleaning will make your tile look new and help cleanse the grout of discoloration and foul odor.

Read More

Upholstery Cleaning

The fabric on your furniture is highly susceptible to holding in dirt, debris, bacteria, pet urine, hair, and much more. Cleaning upholstery is difficult without specialty equipment. Our patented foam absorption process

Read More
Trustworthy

Our unparalleled commitment to providing dependable services is clear. We have a proven reputation in the community. Our clients love us!

Qualified

Our staff consists of certified and insured professionals. We provide specialized training to our workers and use industry-leading tools and equipment.

Effective

Our duct cleaning experts get the job done to the highest degree. We ensure all microbial growth harboring in your ducts is removed. Our methods are the most efficient in the industry.

Integrity

Our cleaning specialists are all absolute professionals. Every technician on our team follows a code of ethics. Our technicians also go to each job site with photo identification and will present it if requested.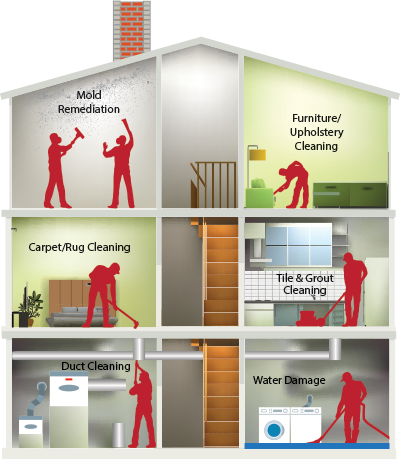 Remember, It Isn't
Clean Until It's