Water damage can happen at any time. When a crisis occurs it is important to treat the issue as fast as possible. Ignoring the problem can lead to many serious issues ranging from fire and electrocution to mold development. Seek help immediately if your commercial property floods. We provide this service for commercial properties after any flooding occurs. The Duraclean brand established in 1930 and is world-renowned. Our commercial clients can count on us to mitigate water damage via water extraction and dehumidification.
Water Damage – What Kind?
Our team can help with any type of water damage. We can provide damage mitigation assistance for sanitary and unsanitary water damage, as well as black water. Sanitary water damage typically occurs when a faucet overflows and causes flooding. Unsanitary water damage occurs when the water comes from a dirty source such as an overflowing toilet. Black water damage occurs when raw sewage reaches into the flooded area. The type of water damage factors into the appropriate treatment method. Sanitary water damage is the least severe and easiest to handle. Unsanitary and black water damage can have more severe effects. In these cases, you might need to replace flooring and other materials because of the contaminants that spread from the water.
Water Damage Mitigation Explained
Our job is to extract all remaining water from the affected site. We do this with the highest level of efficiency. We make sure the sitting water doesn't spread throughout the building and cause further damage. The goal is to completely eliminate any wetness. The remaining water is removed and the damp spots are dried up to prevent further damage. An effective dehumidification process is done to make sure the structure isn't compromised. We use desiccant humidification, or refrigerant, to treat the floor, drywall, beams, etc. The process is ongoing as it takes time to fully dry and dehumidify the building materials. Our technicians will return to track the drying progress. We use specialized meters and thermal imaging devices to find any moisture left in the walls. We will focus on any affected areas with our drying equipment and air movers to ensure 100% water extraction and dehumidification.
Emergency Water Damage Treatment
Duraclean offers 24/7 emergency water damage mitigation. We know it is important to treat this damage immediately. The problem can get much worse in a short period of time. The damage can be long lasting which could affect your business's bottom line. Reach out if your business experiences any issues with flooding or sitting water. We will set up an appointment ASAP to rectify the issue. We will make sure the damage is kept to a minimum and prevent it from getting any worse. The Duraclean team is here to help. Give us a call any time!
Why Trust Us?

Renowned
Our name is iconic in the residential and commercial cleaning industry. We have helped countless local businesses with water damage mitigation.

Equipped
Duraclean water damage mitigation experts are given access to all types of water extraction and dehumidification equipment. If any mold exists, we can also assist with mold remediation.

Effective
Our quality of work is consistent. We work fast to prevent further water damage and mold growth. Your results will be seen both now and down the road.

Perfection
At Duraclean, we take pride in the respect behind our company's name. We only hire the best in the industry. Our water mitigation experts are fully insured, extensively trained, and certified. We bring photo ID to every job and maintain complete professionalism.
Hardwood Floor Cleaning

The pores of your hardwood floors absorb dirt and debris which can serve as a breeding ground for bacteria and mold. This buildup of dirt can drastically reduce the longevity of your hardwood floors. DIY cleaning methods do not extract all of the soil that sits deep into the pores of your hardwood floorboards. Our patented foam absorption process ensures maximum soil removal. We use a finishing sealant to give your floors a layer of protection and a shiny, new, and glossy look.

Read More

Tile & Grout Cleaning

The pores of grout lines are capable of holding in dirt and debris that is almost impossible to scrub out. This buildup can cause a discoloration to the grout. Tile can also stay dirty similar to how hardwood absorbs debris. A thorough, professional cleaning will make your tile look new and help cleanse the grout of discoloration and foul odor.

Read More

Upholstery Cleaning

The fabric on your furniture is highly susceptible to holding in dirt, debris, bacteria, pet urine, hair, and much more. Cleaning upholstery is difficult without specialty equipment. Our patented foam absorption process

Read More
Trustworthy

Our unparalleled commitment to providing dependable services is clear. We have a proven reputation in the community. Our clients love us!

Qualified

Our staff consists of certified and insured professionals. We provide specialized training to our workers and use industry-leading tools and equipment.

Effective

Our duct cleaning experts get the job done to the highest degree. We ensure all microbial growth harboring in your ducts is removed. Our methods are the most efficient in the industry.

Integrity

Our cleaning specialists are all absolute professionals. Every technician on our team follows a code of ethics. Our technicians also go to each job site with photo identification and will present it if requested.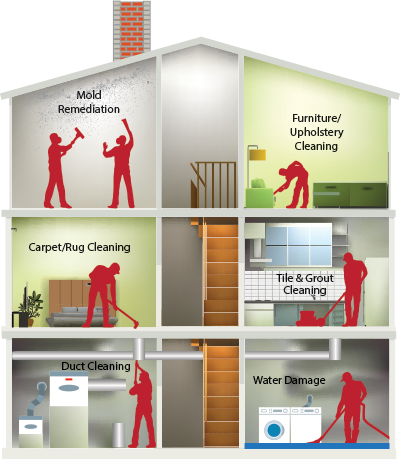 Remember, It Isn't
Clean Until It's