Upholstery Cleaning
Harmful organisms are spread throughout the home. This includes everything from dirt and debris to bacteria, mildew, and fungus. These contaminants can be found in the pores of your hardwood floors, the fibers of your carpets, and even the pores of the grout between your tiles.
A regularly cleaning is essential to prevent these biogenic agents from affecting the health of you and your family. We always recommend that you have your floors and air ducts professionally cleaned at least once a year.
However, what about your upholstery?
Why Upholstery Cleaning Matters
The fabric of your furniture is highly susceptible to contamination from dirt and debris. Most fabric cleaners help clean at the surface but do not fully extract the soil. Store-bought cleaning products leave residue on the upholstery which is also bad for your health.
Keeping your upholstery clean is essential. You are exposed to this fabric and all of the contaminants inside of it. You breathe in these organisms regularly. The risk of infection and illness is greater when you fail to properly clean and maintain your upholstery. The health risks are especially serious if you have any respiratory issues or a weak immune system.
How a Professional Cleaning Helps
A professional upholstery cleaning service will efficiently extract contaminants. You will be left with furniture that is in like-new condition. The difference is noticeable both at the surface and deeper into the fabric. Most importantly, the harmful organisms will be gone so your upholstery will not impact the air quality and potentially make you sick.
At Duraclean, we use our patented technology to make sure we remediate the issue to the fullest extent. Our exclusive equipment holds the record for the most soil extracted. Our upholstery foam process is seriously second-to-none. On top of taking out the most soil, we avoid over-wetting and fully extract the soap and liquid after cleaning your furniture.
Book Your Appointment Today
The team at Duraclean is ready to help whenever needed. Our upholstery cleaning technicians have the knowledge, expertise and resources to get the job done. We can thoroughly clean all types of fabric-covered furniture.
Our large group of qualified professionals can come at a time that suits you. We're always quick and friendly. Leave the hard work to us and you won't be let down. Our foam process for upholstery really does provide unparalleled results.
Why Duraclean?
Trusted
People trust us with any and all upholstery cleaning needs. Our patented foam process will give results that impress.
Qualified
We use industry-leading equipment to achieve the maximum soil and allergen extraction possible. Our team is extensively trained to ensure our equipment is used to its maximum potential.
Effective
Every upholstering cleaning breathes new life into your furniture. Our deep and thorough cleansing procedure will leave your upholstery freshened.
Excellence
We send certified and insured residential cleaners out for every service call. All of our staff hold the proper credentials, training, and experience. We don't let our clients down and our technicians follow a serious code of ethics.
Hardwood Floor Cleaning

The pores of your hardwood floors absorb dirt and debris which can serve as a breeding ground for bacteria and mold. This buildup of dirt can drastically reduce the longevity of your hardwood floors. DIY cleaning methods do not extract all of the soil that sits deep into the pores of your hardwood floorboards. Our patented foam absorption process ensures maximum soil removal. We use a finishing sealant to give your floors a layer of protection and a shiny, new, and glossy look.

Read More

Tile & Grout Cleaning

The pores of grout lines are capable of holding in dirt and debris that is almost impossible to scrub out. This buildup can cause a discoloration to the grout. Tile can also stay dirty similar to how hardwood absorbs debris. A thorough, professional cleaning will make your tile look new and help cleanse the grout of discoloration and foul odor.

Read More

Upholstery Cleaning

The fabric on your furniture is highly susceptible to holding in dirt, debris, bacteria, pet urine, hair, and much more. Cleaning upholstery is difficult without specialty equipment. Our patented foam absorption process

Read More
Trustworthy

Our unparalleled commitment to providing dependable services is clear. We have a proven reputation in the community. Our clients love us!

Qualified

Our staff consists of certified and insured professionals. We provide specialized training to our workers and use industry-leading tools and equipment.

Effective

Our duct cleaning experts get the job done to the highest degree. We ensure all microbial growth harboring in your ducts is removed. Our methods are the most efficient in the industry.

Integrity

Our cleaning specialists are all absolute professionals. Every technician on our team follows a code of ethics. Our technicians also go to each job site with photo identification and will present it if requested.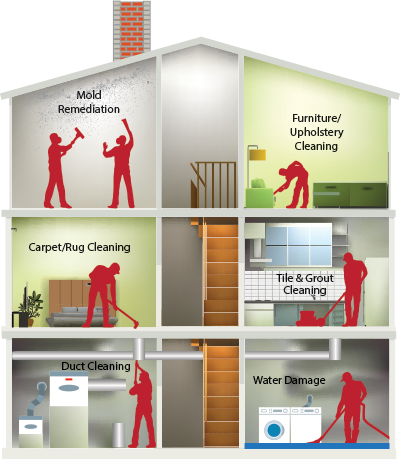 Remember, It Isn't
Clean Until It's