Did you know that dryers are associated with more than 15,000 home-based fires every year in the US? Some of the most common causes include an ignored lint trap, electrical problems, and also a clogged dryer vent.
Cleaning your dryer vent should be a priority. It's recommended that you get a professional cleaning done once a year. You are not only maintaining the efficiency of your dryer but also significantly reducing the risk of a fire in your home.
Importance of Dryer Vent Cleaning
A buildup of lint can cause your dryer to work poorly. A need to run the dryer longer is an indicator of lint accumulation. It can escape the lint trap and get into the machine or obstruct the exhaust duct and vents.
The stuck lint can limit airflow and increase the risk of a sudden fire as the dryer fails to properly exhaust heat. A snowball effect occurs until the problem is treated. The more lint gets trapped the worse the machine will work and the more it will heat up. Eventually, the lint will catch fire and it can quickly spread.
Dryer fires aren't like accidental kitchen fires. When it happens, you won't be able to put out the flames on your own. The damage will affect the structure of your home and the repair costs can easily run in the tens of thousands of dollars range. All it takes is a little maintenance effort to ensure this doesn't happen to you.
Why Professional Cleaning is Needed
Do you make sure to empty the lint trap every time you use your dryer? If so, that's great but it does not mean your vents are in the clear. A staggering 75% of the lint from your clothes won't make it to the lint trap. Therefore, your cleaning thoroughness will not prevent a buildup from occurring in the dryer's exhaust duct and venting system.
A professional cleaning will empty the venting system of all trapped debris. You cannot access and clean these vents on your own without the right equipment. An expert will clean out pipes that run through your walls and ceiling. While some vent cleaning kits exist, the results are not as reliable as what a dryer vent cleaning company can offer.
Book Today!
Schedule an appointment with one of our trustworthy cleaning technicians. We will work around your schedule. Our workers are all extensively trained, certified, and fully insured. You will receive friendly service and some educational insight on ideal dryer vent maintenance practices to follow in the future.
Plus, our rates are practically unbeatable. You can shop around and see for yourself. This particular service is cost-effective. You will notice a difference in your dryer's performance (and save on energy costs) if your vent is starting to clog. Likewise, if there's any mold growth we will rectify the issue before it becomes a much more costly problem.
Give us a call and book a vent cleaning appointment today.
Why Duraclean is #1

Dependability
Our reputation is on the line with every client we help. Time after time, homeowners and landlords choose us for any residential cleaning job.

Resourceful
Our staff are professionally trained and have the tools and equipment needed to get the job done. We can help in any situation, including mold removal within your dryer's venting system.

Seamless
Duraclean's staff are ready to help when it's needed. Our dryer vent cleaning services are fast yet efficient. We will make a timely visit to your home and quickly get out of your hair.

Honorability
Our franchise hires the best cleaning technicians. We extensively train our workers and ensure each team member is completely qualified. Our staff go to every job with photo ID and provide friendly and professional services.
Hardwood Floor Cleaning

The pores of your hardwood floors absorb dirt and debris which can serve as a breeding ground for bacteria and mold. This buildup of dirt can drastically reduce the longevity of your hardwood floors. DIY cleaning methods do not extract all of the soil that sits deep into the pores of your hardwood floorboards. Our patented foam absorption process ensures maximum soil removal. We use a finishing sealant to give your floors a layer of protection and a shiny, new, and glossy look.

Read More

Tile & Grout Cleaning

The pores of grout lines are capable of holding in dirt and debris that is almost impossible to scrub out. This buildup can cause a discoloration to the grout. Tile can also stay dirty similar to how hardwood absorbs debris. A thorough, professional cleaning will make your tile look new and help cleanse the grout of discoloration and foul odor.

Read More

Upholstery Cleaning

The fabric on your furniture is highly susceptible to holding in dirt, debris, bacteria, pet urine, hair, and much more. Cleaning upholstery is difficult without specialty equipment. Our patented foam absorption process

Read More
Trustworthy

Our unparalleled commitment to providing dependable services is clear. We have a proven reputation in the community. Our clients love us!

Qualified

Our staff consists of certified and insured professionals. We provide specialized training to our workers and use industry-leading tools and equipment.

Effective

Our duct cleaning experts get the job done to the highest degree. We ensure all microbial growth harboring in your ducts is removed. Our methods are the most efficient in the industry.

Integrity

Our cleaning specialists are all absolute professionals. Every technician on our team follows a code of ethics. Our technicians also go to each job site with photo identification and will present it if requested.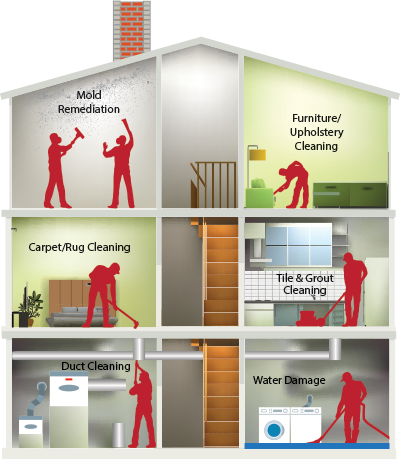 Remember, It Isn't
Clean Until It's